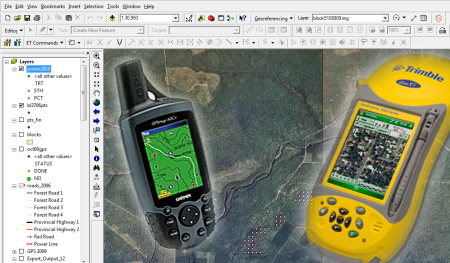 NEW: SoftTouch Forestry aquires ForestPal.com
ForestPal.com provides free software for land managers, including the flagship product fGIS.

fGIS is robust GIS software that allows the user to read, write, and edit ESRI ArcView Shapefiles. The best part of this it you can get from ForestPal.com for FREE! Click here now.
Do you need a map of your roads and trails? How about a map of forestry operations? Watercourses? Property? We have the the expertise, equipment, hardware, and software to provide professional mapping services. We can provide small or large printed maps depicting your land to your specifications.
We can provide you with a fully integrated digital forest management system using Geographic Information System (GIS) and Global Positioning Systems (GPS). We have been involved in some significant projects within New Brunswick, developing customized GIS and GPS solutions for our clients. We can provide ongoing technical support, set company wide standards, develop customized training programs and manuals. We specialize in integrating digital mapping in to existing GIS databases. Our solutions are scalable and affordable.